Large and established team
The cornerstone of our Asian Equity capability is predicated on the long working relationship of core team members. Some senior members of the team started working together as early as 2003, while the core team have been together at Nikko AM for over 7 years. The team is multi-cultural, multi-generational and has worked an average of seven years at Nikko AM, which has helped foster a collegiate environment of cooperation, reliability, intellectual compatibility and trust. We pride ourselves on our collective cognitive diversity and creating a culture that allows team members to robustly challenge each other's ideas. The team averages 18 years of relevant experience, bringing to the table extensive hands-on portfolio management expertise and analyses over different market cycles. This allows us to be better prepared for future market uncertainties and volatility.
Clear philosophy and focus
We believe that applying fundamental research to identify undervalued companies capable of achieving high sustainable returns and/or benefiting from positive structural change will lead to superior investment performance. We depict this graphically using the following chart. We aim to have a balanced portfolio with the largest representation of stocks with high sustainable returns and high structural change.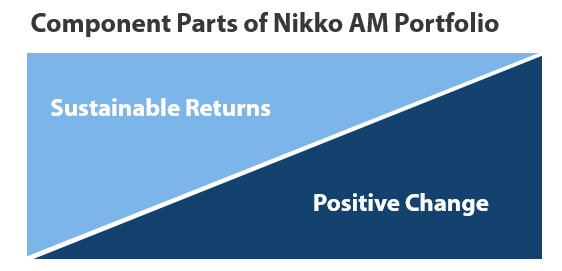 The Asia region comprises diverse growth markets. Economics, politics, consumer demand, market characteristics and company developments can drive substantial and rapid change. The combination of Asia's market diversity and continuous change means that experience and profound local market knowledge are especially critical. Concomitantly, strong and/or improving ESG factors are also fundamental to sustaining high returns
Well-established, robust and proven investment process
Our disciplined, time-tested investment process has been constructed specifically for Asian markets based on the team's collective beliefs and experience. Stock-picking is the primary driver of alpha and a relatively low number of portfolio holdings ensures we back our conviction.
Independent yet integrated investment approach
Research analysts and portfolio managers are assigned individual sectors and country/regional responsibilities respectively. This structure ensures that the full spectrum of Asia ex-Japan markets is covered and allows for a more holistic and integrated approach to portfolio construction. Our analysts also enjoy the independence to explore and take into consideration stocks that fall beyond the traditional boundaries of large-cap indices. This provides our highly experienced portfolio managers the flexibility to invest in the best investment ideas within a given market without biases towards benchmarks or market cap. Our focus is on identifying the most attractively valued companies with high sustainable return potential and positive structural change.
Extensive multi-country and multi-sector capabilities
In line with our commitment to provide sophisticated and diverse investment solutions to our clients, our team covers a wide range of strategies and sectors within the Asia ex-Japan region. Our deep regional experience allows us to deliver the very best investment opportunities.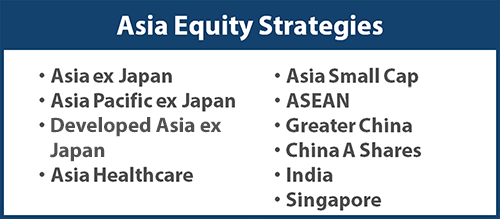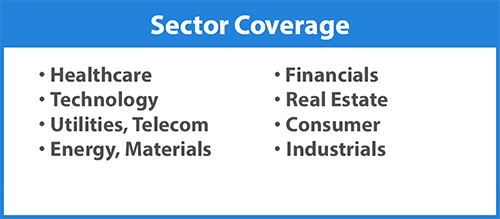 The investment process
The team adopts a five-step integrated investment process:
Opportunity set definition: the investible universe is defined by applying market capitalisation limits and liquidity screens to stocks listed in Asia ex-Japan markets.
Idea generation:: This step revolves around identifying undervalued stocks with the potential for sustainable returns and/or benefiting from positive structural change. All team members attend structured weekly meetings to discuss generating new stock ideas.
Detailed fundamental research:From idea generation, stocks are selected for further detailed fundamental analysis including Environmental, Social and Governance (ESG) assessment, and subsequently presented by the sector analyst to the team for discussion and a collective final stock rating.
Portfolio construction & macro overlay: Portfolio construction includes the buying and selling of stocks based on the internal ranking system. An independent macro assessment is used to cross check country allocations resulting from bottom-up stock selection. This is to identify unintended risks and help avoid undue geo-political uncertainties.
Ongoing risk monitoring & management: risk control involves daily portfolio risk management processes managed by independent risk teams spanning four functions, namely Investment Management, Risk Management, Investment Compliance and Enterprise Risk Management.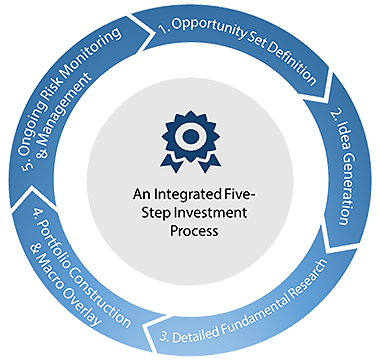 Key Characteristics:
Style & benchmark agnostic
Driven by fundamental views and conviction
Focus on sustainable returns and positive change
Bottom-up stock selection
Three-year or longer research outlook
Concentrated portfolios