Note: this is an alternative scenario to the firm's house view.
The US Federal Reserve's (Fed's) drive to normalise interest rates is largely being prevented by the fact that other major monetary authorities around the globe are still following a path of easy monetary policy as they strive to prevent deflation and ignite endogenous growth.
Over the past two years, risk and currency markets have been largely driven by expectations of Fed tightening, leading to a higher US dollar. Given the significant role that the US dollar continues to play in world trade and debt markets, this eventually has a negative impact on risk markets due to concerns over emerging market debt and possible Chinese currency devaluation. In January, poorer US economic data gave the market concern over the possible risk of a US recession. Although this may not be repeated, a higher US dollar, caused by higher expectations of Fed rate raises, can derail risk markets as it has done several times in recent years. As a result, the Fed has become stuck in a risk-on/risk-off cycle, largely driven by the market's changing expectations for Fed moves and movements in the US dollar, which is hampering their ability to raise interest rates. In my view, this cycle can only be broken by a dovish Fed or the likelihood of stable/tighter policy overseas.
With the current uncertainty surrounding 'Brexit', I think the Fed is unlikely to move interest rates in June. Since the Fed's July meeting does not involve a press conference, I think that September is the most likely month for a rate rise. However, given relatively poor recent US data, potential geopolitical risks in Europe, and continued easy monetary policy globally, it would not be a total surprise if we have to wait until 2017 for the next Fed hike.
In recent weeks, we have seen certain Fed speakers trying to raise expectations for a June or summer move. In my view, this is based on the fact that the market had very low probabilities of future rate hikes and the Fed wants to keep its options open by making every meeting 'live'. This implies that it is at least trying to ensure the market is pricing a greater than 50% probability of a potential rate increase. As many have found to their cost, however, it is not what central bankers say that is important, but what they do.
Negative interest rate policies are driving US bond yields lower
One of the great monetary experiments of recent times has been the use of negative interest rate policies (NIRP) by the European Central Bank (ECB) and the Bank of Japan (BoJ). For the ECB, the aim was to improve the effectiveness of quantitative easing (QE). As the Fed found, QE programmes can just result in the banks holding excess cash reserves at the central bank instead of increasing their loan books. As an incentive for the banks to deploy their money back into the economy, the ECB applied a negative interest rate on these deposits. The BoJ moved to NIRP as an extra tool to kick-start domestic demand since the supply of assets it can buy under QE is coming to a natural limit.
In my view, one has to be careful of the unintended consequences of such unconventional policies and NIRP has many that extend beyond the countries implementing them. In fact, the Fed no longer seems to be the most important factor for the US Treasury market.
NIRP has had a significant impact on bond market flows
The introduction of NIRP has seen many European and Japanese bonds trade at negative rates. Given that both Europe and Japan have high savings rates and current account surpluses, the likely response from savers would be to look for investments that do provide a positive return. As a result, capital is flowing out of their bond markets and into countries with a positive return.
As chart 1 shows, flows out of Japan into overseas bonds have been increasing for the past few years, with a particularly sharp rise since negative interest rates were introduced in January. The chart also highlights that most of this money is flowing into the US Treasury market.
Chart 1: Japan's overseas bond investments (12-month aggregate)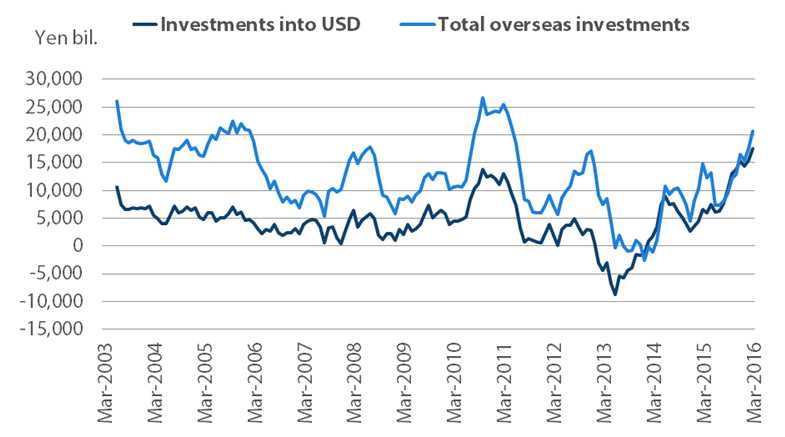 Source: Bloomberg
As discussed in previous articles, long-dated US Treasuries have been driven by German Bund movements for some years now, and more recently by the direction of Japanese government bonds (JGBs). With 10-year JGB rates now in negative territory, it is no wonder that Japanese bond investors are looking to the US Treasury market for yield.
The fact that US spreads have traded in a narrow range over the last year (see chart 2) against both Bunds and JGBs suggests that the Fed may be increasingly irrelevant for long-dated Treasury yields due to the search for yield from countries where rates are negative.
Chart 2: US 10-year bond spreads to German Bunds and JGBs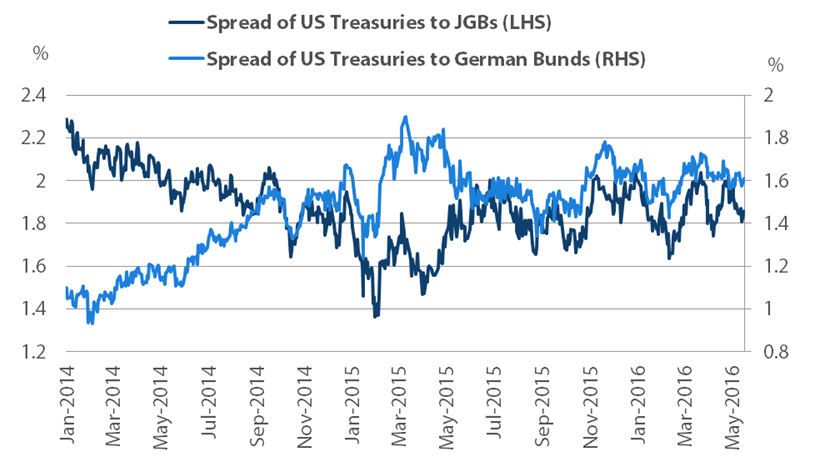 Source: Bloomberg
In my view, although the Fed still exerts a considerable influence on equity and currency markets, its impact on the US Treasury market is now largely minimal, at least in the longer end, with NIRP being the main driver for the foreseeable future. This means that it is not the Fed we should be worried about when looking at bond performance but the Bund and JGB markets. The 'Bund tantrum' of 2015 should remind us that central bank buying does not necessarily protect investors from an over-bought market, but it can allow us to take advantage of similar situations to buy bonds.
What does this mean for the Fed?
The Fed is still constrained to a certain extent by events beyond the US, particularly other countries' monetary policies and the influence they are having on global markets. As we have seen this year, QE and NIRP are having marginal impacts on Japan and Europe's currencies, which remain driven by the Fed and the direction of the US dollar. For example, as the Fed started to seem dovish in Q1, the Euro and Yen rallied. For the Fed, this is a real concern since it means that any policy tightening is being magnified and has ramifications in other markets.
In addition, the potential of a vote for the UK to leave the EU must be viewed as a major risk, with unknown, geopolitical consequences. In my view, this will stay the Fed's hand at its June meeting as it waits to see the 'Brexit' outcome. Given that the July meeting does not involve a press conference, I would expect the next rate rise in September. However, any rate rise will rely on US economic data either improving or at least maintaining its current level and for political risk in Europe to reduce. If events were to take a downturn, I would not be hugely surprised if the next Fed rate rise were delayed to 2017.